Visit the Camden County tourism website for more details on TDA Sponsored Events.
Website: VisitCamdenCountyNC
TDA Photo Contest - Annually-Got a knack for photography and capturing Camden County on camera? Camden County TDA invites you to submit your phenomenal pictures in this annual Photo Contest. Contest is open to those who reside or work in Camden County. Visit the website for updated contest dates, rules, awards, categories, previous winners and more.
Camden Heritage Festival - (partner) Annually-Camden Heritage Festival, hosted by the Camden Festival Committee, Inc., is a family oriented fall festival celebrating Camden's history and agricultural heritage at the Camden Community Park. Festivities include live music, farm equipment, classic cars, food trucks, children's games, animals, craft vendors, and living history demonstrations. Camden County welcomes you to join in our day of fun and education!
Paddle for the Border - (partner) Annually-First Saturday in May. Pre-registration required.
Dismal Day - (partner) Dismal Swamp State Park - Fourth Saturday in October -- Dismal Day is a fun filled family festival celebrating history and nature. This fall event highlights the Dismal Swamp State Park and historic Dismal Swamp Canal, while promoting Camden County's history. Dismal Day festivities take place from 10am - 2pm and include food vendors, children's crafts, animals, bounce house, scavenger hunt, nature based vendors, music, manned exhibits and much more. Free wagon and boat rides will be available to enjoy the view of the scenic park and waterway. A 5K Fun/Walk will start at 9am on the DSC Trail. Do not miss this annual family festival!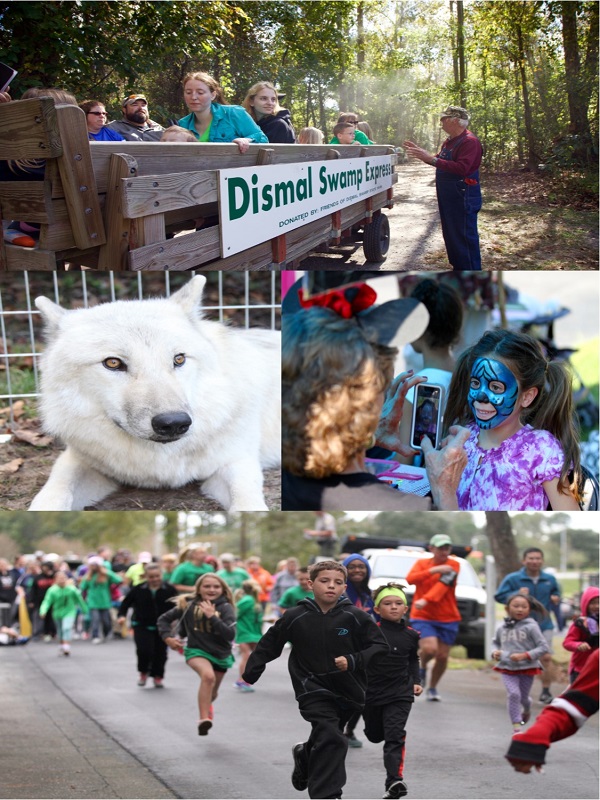 The Dismal Day and Paddle for the Border event's goals are to bring recognition to one of North Carolina's prime, natural resources, the Dismal Swamp State Park and Dismal Swamp Canal.  We encourage involvement with private partnerships in supporting the mission and projects of the TDA.