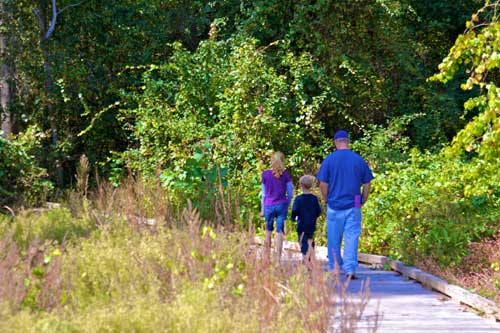 There are several hiking trails to choose from in the Dismal Swamp Canal Welcome Center area. South of the Dismal Swamp State Park entrance is a  three mile paved trail which also runs parallel to the canal. The State Park features a half-mile boardwalk looping through the forest, and several other hiking (and biking) trails which were used in the past as logging roads into the swamp. Keep your eyes peeled for local wildlife: bobcats, bears, snakes, deer, birds, nutria, fox, butterflies, 'possums, raccoons and otters.  Local flora and fauna provide a year-round treat as well.
Dismal Swamp State Park Trails
Canal Road (about 2 miles) a great place to observe signs of animals.  This trail parallels the historic canal where you may see beautiful boats.
Cross Canal/ Bull Boulevard Ditch (2.25 miles) a quiet grassy road where cypress trees grow and bear sign, wood ducks and otters can be found.
Corapeake Ditch (4.8 miles) located just south of the NC/VA border. At the junction of Corapeake and Laurel, hikers can observe the effects of wildfire that burned the pond pine habitat in 2003. Pocosin vegetation is abundant here including bays and gallberries.
Forest Line Ditch (2.3 miles) a gravel road where Atlantic white cedar trees dot the shoulder.  Black bear and otter are commonly seen here on the park's western boundary.
Kim Saunders Ditch (5.4 miles) a grassy dirt road connecting to Canal Road, takes the hiker through the heart of the state park.  Many black bears, turkey and butterflies are seen here. Birders will enjoy this spot for the many warblers they can observe.
Swamp Boardwalk: Enjoy a leisurely stroll along the accessible boardwalk as it takes you into the Dismal. Hear the sounds of frogs and birds without getting your feet wet.
Supple-Jack Trail: Beginning at the visitor center, this loop trail winds through dense vegetation and connects to Canal Road. Keep your eyes peeled for the remains of moonshine stills. Heavily wooded areas provided excellent cover that prevented detection of these illegal operations. When the stills were discovered, they were destroyed by law enforcement.